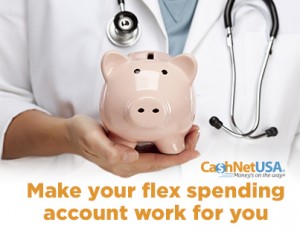 Flexible Spending Account
The flexible spending account is one of my favorite tools to combat the rising cost of health care. But there was always a catch that bothered me. While you were able to set money aside as a pretax contribution to your health care costs, there was always this "use it or lose it" provision. This caused many Americans to be too conservative with how much they set aside. After all, you wouldn't want to add too much money only to lose it forever! Now the U.S. Department of the Treasury has made a favorable change. First, a bit more on how FSAs work:
Flexible Spending Account Benefits
The primary benefit of an FSA is that you can put pretax money aside for your health care expenses. For example, let's say you expect to have $1,000 in medical expenses this year and put $1,000 in your FSA account. If you're in the 25 percent tax bracket, your total out-of-pocket costs may be closer to $750 (since 25 percent of $1,000 is $250 in fewer taxes you'll pay this year).
There's also a less obvious benefit. An FSA account is a nice cash flow you can't get anywhere else. Once you set your annual contributions and enter the new year, you can spend the full year's amount as early as January, even though your payroll deductions will occur throughout the year. So in effect, you could be spending money from the FSA account in January that your paycheck doesn't fund until December, 11 months later!
$500 Rollover Change
New legislation now allows Americans to roll over up to $500 in FSAs from one year to the next. This is key for two reasons. First, people don't need to be so conservative with their FSA contributions. Second, it puts more money back in the wallets of everyday Americans. This is good both at the individual level and, of course, at the greater economic level. It allows for greater spending, saving and investing.
If you're not using an FSA and have the opportunity to do so, look into it and take advantage of everything it has to offer.
The information in this article is provided for education and informational purposes only, without any express or implied warranty of any kind, including warranties of accuracy, completeness or fitness for any particular purpose. The information in this article is not intended to be and does not constitute financial or any other advice. The information in this article is general in nature and is not specific to you the user or anyone else.