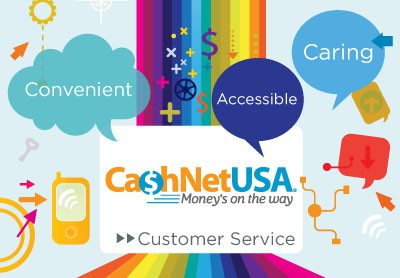 Excellent Customer Service
At CashNetUSA, we believe that our hardworking customers deserve the best. That's why Customer First is more than just a mantra to us. We view customer satisfaction as our top priority in everything we do.
CashNetUSA's Vice President of U.S. Operations, Arad Levertov, details our commitment to our customers in this article on SalesandMarketing.com. Levertov explains just how important customers are to us, and how we'd be doing a disservice to ourselves if we didn't make customers our number one focus.
In the article, Levertov identifies several key ways in which CashNetUSA aims to surpass customer expectations:
Convenience — CashNetUSA strives to accommodate the schedules of our customers. We noticed that most of our customers submit loan applications between the hours of 4 and 8 p.m. Central time, and so we process applications until 9 p.m. And because we're Internet-based, customers have access to our application right from the comfort of home.
Receiving a timely approval decision is another important component of the CashNetUSA customer experience. That's why CashNetUSA uses the most advanced methods to deliver a prompt decision. We don't want to make our customers wait if they don't have to.
Accessibility — CashNetUSA has 24/7 customer service because we know how valuable support can be when a customer needs it. That means we're here for our customers in the middle of the day and the middle of the night; online and over the phone.
We also address any issues customers may choose to communicate through Facebook and Twitter, because we understand that these platforms may be the most convenient for many. We're committed to remaining accessible to customers wherever they are.
Humility — CashNetUSA is never above listening to feedback. We're always interested in what we could be doing better. If a customer tells us what is and isn't working, we can continually refine our services to provide them with a better experience.
According to Levertov, today's customers demand immediate solutions and aren't afraid to switch to a competing lender if they can find a better customer experience. That's the way it should be — customers deserve the best. Through a combination of convenience, accessibility, humility and delivery of a great product, CashNetUSA expects that our appreciation of our customers shines through. We hope to remain the lender of choice for our customers by continuing to prioritize them over all else.
Read the full article here.