When money is tight, not everyone can charge their emergency bills to a credit card. If your card is maxed out, or you have been denied credit due to a less-than-perfect credit score, what are your options? That's where a cash advance loan comes in handy. Small loans for bad credit may be a practical alternative when emergencies come up and traditional credit sources are unavailable. Here is a quick guide to the most common types of short-term loans and the primary differences among them.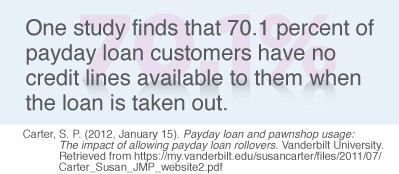 Common sources of short-term lending are:
online payday loans
pawn shop loans
title loans
installment loans
unsecured lines of credit
These cash advances come in all shapes and sizes. But they differ in four key ways:
Loan amount
Loan term (due date)
Loan rates (fees or interest)
Application requirements
To dig a little deeper, let's examine each type of loan on its own terms. First, payday loans.
Payday loans
These may be the most common kind of cash advance. Less than 1 percent of payday borrowers even consider heading to a pawn shop, and a measly 2.5 percent consider title loans according to Elliehausen. Most of the time, payday loan customers can apply online and get the funds deposited into their bank account as quickly as the next business day. Here's the rundown:
Receive up to $750 depending on your state (CashNetUSA, 2012)
Due on your next payday (typically within two weeks)
Fee for every $100 borrowed
Must be 18 or older, a U.S. citizen, have a steady income and a valid checking account
Pawn shop loans
Unlike payday lenders, pawn shops have been around for ages. These lenders require borrowers to put up a valuable item as collateral on a loan, and the item stays with the pawnbroker until the loan is paid back. Pawning transactions are typically made in-store rather than online, although some virtual shops have opened recently. Here's the scoop on pawn shop loans:
Receive up to 50 percent of the item's value
Due within 30 days
Average fee is 20 percent of the loan amount
Must have a valuable item to pawn
Households are twice as likely to take out a payday loan as opposed to a pawn shop loan according to Avery & Samolyk.
Title loans
According to Zywicki, title loans are an offshoot of pawn shop loans. Borrowers use their car title as collateral to secure a cash advance, but some get to keep and use the vehicle even while the loan is outstanding. The title, however, is surrendered to the lender until the loan and interest is paid in full. Here are the key facts:
Receive up to 100 percent of the vehicle's value
Due within 30 days
Interest-based
Must be 18 or older, a U.S. citizen, have a steady income and valid checking account, and own an insured vehicle with a clear title
Installment loans
Installment loans are similar to payday loans, but they can offer more money for longer periods of time. Instead of repaying the loan in two weeks along with a flat fee, borrowers of installment loans make payments gradually over several months, while interest accrues on the principal balance. Here are the particulars:
Receive up to $2,250 (CashNetUSA, 2012)
Due within four months to a year (monthly payments made)
Interest-based
Must be 18 or older, a U.S. citizen, have a steady income and a valid checking account
Lines of credit
Finally, there are personal line of credit loans. These cash advances are like credit cards without the card. Approved customers are issued a credit limit and can borrow money as often as they need to, up to their limit. Each advance incurs a transaction fee, and after 14 days, interest accrues daily on the principal outstanding. Just like with a credit card, borrowers can make minimum monthly payments instead of paying it off in one lump sum. Here's how lines of credit stand up to the competition:
Receive up to $1,800 (CashNetUSA, 2012)
Due date varies (paid off in minimum monthly payments)
Fee- and interest-based
Must be 18 or older, a U.S. citizen, have a steady income and a valid checking account
So there's a brief comparison of the different types of short-term loans. Next time you're in a financial bind and can't get credit, you may still have options. But remember, no two products are exactly alike. All it takes is a little bit of research to find the service that is right for you.