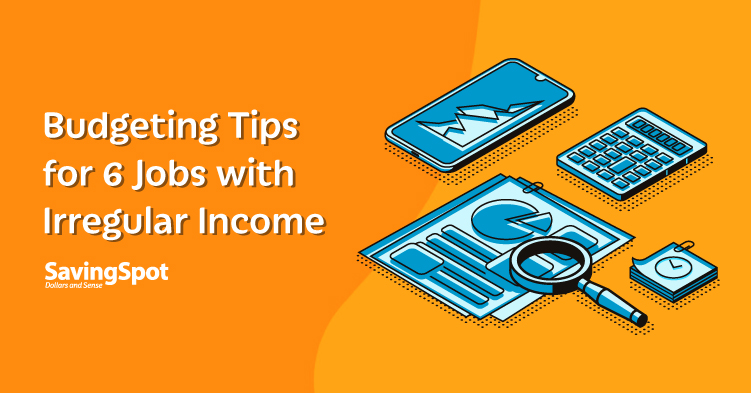 How to Budget When You Don't Have a Regular Paycheck
According to a recent study published during the pandemic, 26% of respondents feel they don't have a stable income.1 Irregular pay can take a toll on your budget, long-term savings and your lifestyle. After all, if you don't know how much you expect to bring in, how can you possibly create a realistic financial plan to live by?
Working in certain occupations or industries can naturally lead to varying income that makes budgeting more of a challenge. However, it's still possible to create a realistic financial plan based on your average income and expenses that works for your lifestyle. Read on to learn how to create a budget for six different careers without regular paychecks.
1. If you're a tipped employee…
Whether you wait or bus tables, cut hair or perform a similar service industry job, working primarily for tips can lead to income unpredictability. Though you may have good days or more lucrative shifts, you can also expect slower periods that yield less income.
If your main source of income is customer gratuities, this tipped employee budgeting resource can help you make the most of your pay and help you plan for a rainy day.
2. If you're a gig worker…
According to recent data, roughly 37% of gig workers supplement their income from another source, while 18% use gig work employment as their main source of income. However, the study finds that respondents with gig work as their main source of income may have more financial instability than those with supplemental income from other sources.2
Gig work can provide flexibility for your work-life balance and the opportunity to take on more assignments when you have extra time. However, it's important to make sure that your base expenses and needs are covered. Whether your main source of income is gig work or you have other income sources, this helpful gig worker financial planning guide can help you plan your expenses and make the most of your income.
3. If you're a seasonal worker…
Seasonal work is typically defined as temporary employment that revolves around a specific time of year. While they're not limited to these trades, seasonal occupations can include fields such as construction, agriculture, hospitality, travel, retail and similar industries.
Seasonal work can lead to longer periods of low to no income. While it may not be possible for all seasonal employees, aim to put money away in the bank to help you get by in the off-season.
This financial planning guide can help you learn how to create a budget for seasonal work, regardless of your industry.
4. If you work part-time…
Similar to other employment situations on this list, working a part-time job may not always leave you with as much income as you'd like each month. Some part-time jobs could also have a great degree of income volatility from week to week, as schedules may not be consistent and some employers may even send employees home during slow periods.
Whether your hours have been reduced, you prefer a part-time schedule or something else entirely, it's still possible to manage your expenses and create a budget on a part-time income. Learn more with these useful tips for budgeting on a part-time job.
5. If you're a teacher…
New teachers often begin their careers on a modest salary, and they also may not receive paychecks throughout summer breaks. As a result, it can be hard to put away money during the year to help cover the cost of living in the summer. These budget planning tips for teachers can help you stretch your paycheck further, even in the summer months.
6. If you're self-employed…
Whether you operate your own business or are an independent contributor to another company, self-employment can often lead to income irregularity. However, it's possible to plan for the future, even if you're on your own financially. Find out how to successfully manage a budget on a self-employed income.
While it may seem like a difficult situation to overcome, there are still ways to manage your budget on an inconsistent income and turn your finances around. With economic recovery in swing, you may even be able to find a new position with better pay that can help improve your finances faster.
References
1Berbaum, J. (2020). Survey Reveals Spending Habits During COVID-19.
2Board of Governors of the Federal Reserve System. (2020). Report on the Economic Well-Being of U.S. Households in 2018 – May 2019.