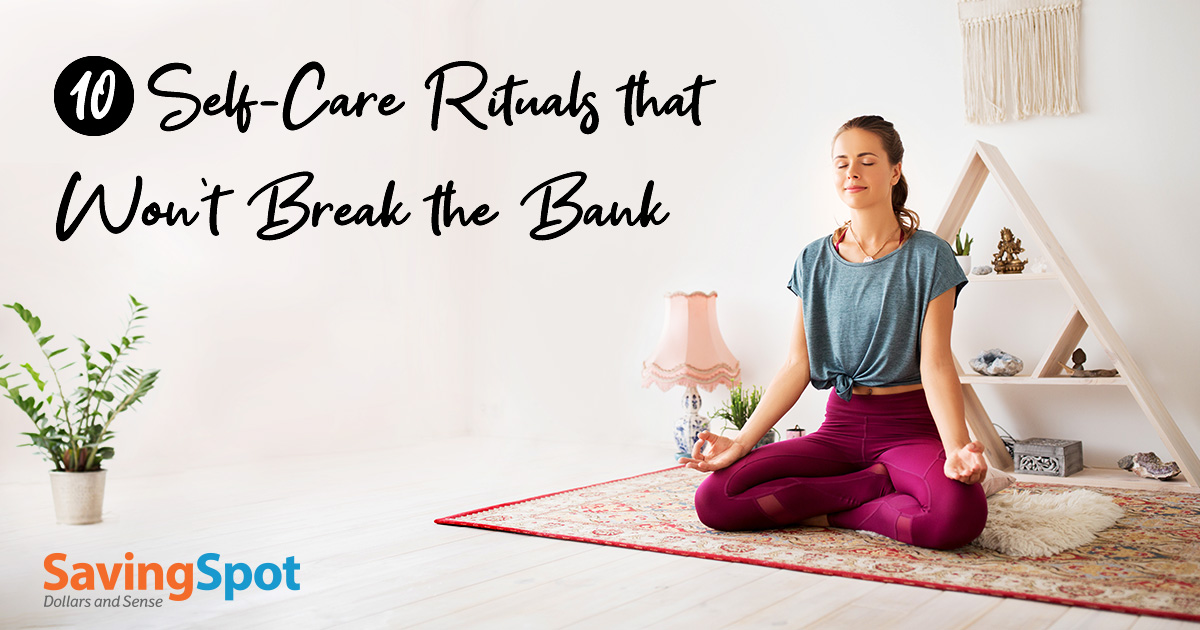 Budget-Friendly Self-Care Tips for Men + Women
American psychologist Herbert Freudenberger first coined the term "burnout" in the 1974, aiming to describe the extreme levels of stress and exhaustion commonly felt by those in service-based roles (e.g. nurses, social workers).1 Now in a time plagued by demanding work schedules and insane expectation of perfection in our personal life, burnout is more commonly used to describe exhaustion in any profession. Making the effort to discover the ever coveted "work-life balance" may feel like one more thing on your never-ending to-do list. However, exploring preventative methods to avoid burnout completely may add up to a better investment of time in the long run.
When practiced regularly, self-care can help chip away at that feeling of burnout and minimize stress. These little activities sprinkled throughout your week can have a positive impact on your mental, emotional and physical health.
While a day at the spa or a relaxing weekend away sounds like an easy way to practice self-care, the impact on your budget is anything but stress-relieving. We've compiled a list of 10 free or low-cost activities you can do to help bust through that burnout without worrying about your budget.
Acknowledge stress triggers: What prompts your stress? Take time to write down all the things that overwhelm you and cause worry. Once you identify these triggers, brainstorm things you can do to keep them from happening. If it's out of your control, come up with a plan for how to acknowledge, process and dispel the stress when it arises.
Commit to non-commitment: It's OK to say no to plans. If you are feeling stretched thin, comb through your schedule for commitments you can either cancel or reschedule. Don't feel guilty saying no or waiting to the last minute to back out — it will only add more stress and anxiety leading up to the event. Use that time to get something done or for one of the self-care activities from this list.
Shift your perspective: Sometimes stress is just a mindset. Adjust your mind, adjust the stress. Start by keeping a log of things you're grateful for every day. It could be three simple bullet points or it could be a long entry about a recent experience. The key here is to just get something down and spend less than five minutes acknowledging the positive parts of your life. Try doing it in the morning before you reach for your phone.
Start a stretching routine: Wind down before bedtime with a short stretching sequence. Relax tight muscles and joints and focus on how your body feels rather than the stresses of the day. It can even help you sleep better at night! Follow this stretching series you can do in bed!
Meditation made simple: If you're new to meditation or struggle to stay focused, use an app to guide you. Free apps like Calm or Headspace have a range of guided meditations, covering topics like stress, anxiety, gratitude and more. Some meditations start at just a minute long, perfect to fit into any schedule.
Scent your shower: Smell has a surprisingly strong connection to emotion and cognition, and that includes stress. Certain scents like lavender, eucalyptus and lemongrass have been known to have a calming quality. Buy shower steamers or make your own to easily integrate these scents into your daily routine.
Curate a "happy music" playlist: Hearing is another sense that is often overlooked as a driver for our mood. You know that song that you can't help but tap your foot to? Scientific studies show that the right song can shift our thinking. Make a mood-boosting playlist on your favorite free music platform that you can turn on whenever and where ever you are.
Indulge in a screen-free solo activity: Experts say that more phone time is correlated to higher levels of stress. Break your screen habit and replace it with something more calming. A good old standby is reading, but if you're not a book worm, try a large puzzle or a project that involves your hands (wood working, knitting, etc.). Even a quick walk around the block can help boost your mood.
Get dressed up: A lot of self-care methods are focused on stress reduction, but there are other ways to take care of yourself. A simple boost in confidence can have a huge impact on your mood. Take the time to trim your beard or tweeze your eyebrows, maybe even do a face mask. Then put on your favorite outfit like you're going out on a big date or a special event. You don't have to even go anywhere fancy — just the simple act of putting in the effort leaves you feeling more positive.
Make yourself a special dinner: When we get busy, one of the first things tossed aside is our diet. Frozen instant dinners and grab-and-go sandwiches scream "convenience," not "self-care." Pick a recipe from your favorite chef or try to recreate one of your favorite dishes from a restaurant. It's a nice little treat and a great way to focus your energy.
It's easy to neglect ourselves when we have so many other obligations stacking up. It may be counterintuitive, but one of the easiest ways to make sure we're more efficient in everything we do is by setting aside more time for ourselves. It's not just an excuse to reward ourselves — in fact, it's a great way to ensure that we are at our best at work and our personal lives.
Resources
1King, N. (December 8, 2016). When a psychologist succumbed to stress, he coined the term 'burnout'. Retrieved March 4, 2019, from https://www.npr.org/2016/12/08/504864961/when-a-psychologist-succumbed-to-stress-he-coined-the-term-burnout