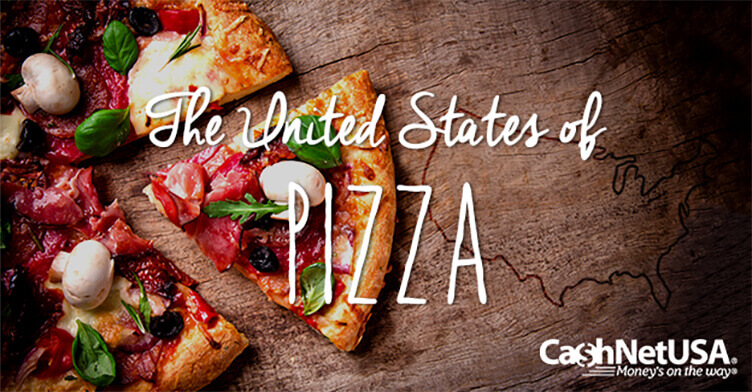 Though pizza started in Italy, Americans from every state have found a way to reinterpret it. From deep dish to deep-fried, here are 50 states and 50 pizzas that stand out from the rest.
We've divided this national pizza adventure by region. You can uncover more information on each pizza by clicking on the arrows or jump to a different region using our pizza pie navigator at the bottom of your window.

Connecticut
Coal-fired White Clam Pizza at Frank Pepe, New Haven
When food is prepared "blackened," most people think of fish or chicken. This isn't the case at Frank Pepe Pizzeria, which delivers a thin crust pizza gloriously blackened by their signature coal-fire ovens. Unlike wood, coal doesn't release any steam when it burns, charring the crust in a unique way. Frank Pepe's signature tomato pie is the white clam pizza, topped with fresh clams and grated cheese.
Maine
Mashed Potato, Bacon and Scallion Pizza at Otto Pizza, Portland
The weather in Maine can get quite dismal, but the masterminds at Otto Pizza have a solution that will warm you up quick. With hearty combos like sriracha chicken and avocado, and butternut squash, ricotta and cranberry, Otto Pizza creates filling (and heart-warming) pizzas to help the cold days seem shorter.
Massachusetts
A4 Sausage and Banana Pepper Pizza at Area Four, Boston
Area Four takes a back-to-basics approach to every element of their pizza, with a special focus on the foundation. The pizza dough is fermented for over 30 hours and paired with hand crafted cheese and a wide variety of top-notch toppings.
The owners of 900 Degrees take authenticity very seriously. Seriously enough, in fact, to import many of their foundational ingredients like cheese and tomatoes directly from Italy. They also enjoy pairing every pizza with a wine recommendation for a well-rounded experience. Their most popular pizza, the Bella Cosa, starts with a roasted garlic cream sauce followed by grana padano, mozzarella, baby spinach, caramelized red onions, rosemary ham, prosciutto and extra virgin olive oil.
Rhode Island
Margarita at Al Forno, Providence
With a focus on blending classic Italian recipes and ingredients native to the New England region, the chefs at Al Forno create mouth-watering grilled pizza. This innovative technique provides a whole other level of flavor that stands out in a different way to electric or classic wood-fire ovens.
Ingredients don't get more local than this: the restaurant is located on the Lareau Farm. The peppers on this pizza are the definition of farm to table. Add on pork from the nearby Gaylord's farm for a very Vermont experience. Your pizza will be cooked to perfection in a traditional (and large) 20,000 lb wood-fire oven.
New York may be known for its pizza, but its sister across the river is a better contender than one might suspect. Specializing in thin crust coal-fired pizzas, Mercato serves up appetizing "tomato pies," or pizzas with the sauce on top. Specialties include clams and shrimp native to the region.
In a city like New York, it's a challenge to stand out. The team at Atlantic ChipShop deep-fries its pizza by the slice (as well as many other things you might not think of, such as candy bars and macaroni and cheese). Pair with marinara sauce on the side to dip it in.
Pennsylvania
Frankford Avenue Taco at Pizza Brain, Philadelphia
Named for the street where the restaurant stands, the Frankford Avenue Taco pizza is anything but a taco. The slice comes with three small scoops of pizza-flavored ice cream. While ice cream on pizza may not seem like the most logical choice, the melting ice cream works as a creamy sauce topping.
Pizzas at Elizabeth's range from classic to decadent, but all are distinctively balanced and full of flavor. The Saint Pizza falls on the more decadent size of the spectrum, with a creamy crab and artichoke mixture as a base, topped with Parmesan cheese, paprika and chives.
Specializing in thick crust pizzas, Matthew's balances out its heavy foundation with fresh toppings like backfin crab sprinkled with classic old bay seasoning. Boasting east coast flavors mixed with burnt cheese, this place is a must-do on your next trip.

Fruit on a pizza? Pineapple isn't the only sweet topping at this West Virginia favorite. A raisin shortage at the restaurant forced the chefs to improvise with grapes. The swap went over better than the original pizza and has been on the menu ever since!1
Boasting over 36 different toppings, Crozet is certainly not short on selection. Their menu includes the classics and expands on it with more obscure toppings like Virginia peanuts, cherry peppers, zucchini, shiitake mushrooms and more. Get creative!
"Big" barely begins to describe this pizza at Wick's Pizza House. With size options all the way up to 18 inches, the Big Wick is colossal. Topped with three types of meats and six vegetables piled high on house-made dough, it's certain to fill your belly.
A moment of inspiration and confusion turned out to be a serendipitous event for this restaurant in Music City, U.S.A. The chef ordered pork belly as a new avenue of exploration, but he quickly realized that he couldn't smoke it for bacon. Instead, the pork belly was brined, then roasted for the topping that's now used on the pork belly ham pizza. Topped with mozzarella made in-house and a shot of chili oil, this pizza will definitely make you sing!1
When you see a braided crust in Raleigh, you'll know that pizza is from Moonlight Pizza Company. The braiding helps keep the dough dense, while staying moist and satisfying. It is the perfect frame for their seasonal pizza, Space Jam. This unusual pizza starts off with a base of Peggy Rose's sweet pepper jelly, followed up with bacon, shredded mozzarella, Ashe County cheddar and chevre.
South Carolina
Pistachio Pesto at EVO, North Charleston
EVO puts a new spin on an old classic. Substituting pine nuts for pistachios, this new pesto is perfectly paired with mozzarella, Parmigiano-Reggiano and a dollop of crème fraiche. The salt of the cheese balances out the sweetness of the pistachios for an all-around savory dish.
While Antico Pizza is known for their San Gennaro pizza, an Italian classic, the item that really stands out on their menu is their lasagna pizza. Combining two favorites, this pizza is topped with hearty meatballs, creamy ricotta and romano cheese.
This pizza has the most ingredients of any on this list. It's so stuffed you may think that it's name refers to the weight, but that's not quite it. The Sink has everything… but the kitchen sink.
Can't decide between savory southern gumbo and a smoky pizza? Good thing you don't have to at Tony's. This pizza is topped with all the core ingredients in a typical Cajun gumbo: Andouille sausage, tomato, onion, okra and a smoky, roux-inspired sauce.
"Stuffed" barely begins to describe this pizza wonder. This pie is made up of layers of hamburger, peppers, onions, olives and cheddar cheese, topped with their "pink sauce" — a combination of basic red sauce and spicy white.
If you combine the signature muffuletta sandwich of Louisiana with a slice of pizza, the pizzaletta is born. Stuffed with typical muffuletta ingredients like ham, salami, olives and cheese and topped with more cheese and crushed red pepper, this is a fusion worth taking a bite of.
Florida
Dolce e Piccante at Joey's, Miami
A far cry from your typical hole-in-the-wall pizza shop, Joey's is a chic, contemporary take on an old classic. Joey's is known for their cracker-thin crust that lays the foundation for mouth-watering combination like the figs, Gorgonzola, honey and hot peppers, found on the Dolce e Piccante pizza.

This pizza is for serious pepperoni-lovers only! Each large pizza is covered in 155 pieces of peppery, smoky slices. With so much flavor in every bite, even the most dedicated pepperoni fans will be satisfied.
The range of pizzas offered at Jockamo is just one of the reasons it's a popular choice amongst those native to Indiana. The Bollywood is a stand out with spicy malasa sauce, chicken, green onion, peppadew peppers, fresh garlic and goat cheese. That alone is reason to say "wow," but the folks at Jockamon aren't done yet: the Bollywood is topped with toasted coconut. It's as unique as it is appetizing!
Michigan
The Henry Ford at Buddy's, Detroit
Credited with the first deep-dish, rectangular pizza in Detroit more than 70 years ago, Buddy's is a Motor City staple. The Henry Ford is a Detroit-style pizza coated with a Motor City cheese blend, roasted tomatoes, fresh basil, pine nuts and tomato basil sauce.
In a city known for its deep dish pizza, it's a challenge to stand out from the crowd. Pequod's does just that and more. The key is the crust: crunchy, dense and caramelized in the pan. Keep it simple with some classic Italian sausage on top. Some locals even go so far as to dip a few bites in ranch, a common habit in the Midwest.
St. Louis pizza is unlike any other. Each pizza is topped with Provel cheese, processed in and unique to St. Louis. Provel is a combination of cheddar, Swiss and provolone, and it melts into a thick, buttery texture when baked onto their thin crust pizza.
Wisconsin
Mac N' Cheese at Ian's, Milwaukee
Known as America's Dairyland, it's no surprise that one of Wisconsin's most famous pizzerias is know for a super cheesy pizza. The mac n' cheese pizza is topped with traditional macaroni noodles, cheddar, mozzarella and cream sauce. Baked to golden perfection, it's no wonder it's their all-time best seller. Get the classic or upgrade to the macadilla killa: the mac n' cheese pizza topped with chicken and tortilla on top.
Started by Korean immigrant Ann Kim, the menu reflects her enthusiasm for fused flavors from her homeland and her new home. The signature Korean BBQ pizza is topped with Niman Ranch beef short ribs, mozzarella, scallions, arugula and sesame, drizzled with a soy-chili vinaigrette.
Established at the old site of a Chinese restaurant, the owners of Fong's pizza wanted to pay tribute to those who came before them with many of their menu choices. Enter the crab rangoon pizza, topped with crispy deep-fried strips of wonton paper, crab, cream cheese and green onion, topped with a sweet chili sauce.
Mexican fast food restaurants are not the only ones experimenting with Doritos. Wichita Pizza Company serves up a taco pizza like no other. Starting with a "sauce" of refried beans, the crust in then stacked with beef or chicken, tomatoes, lettuce and cheese. But what is a taco pizza without the crunch? That's where the Doritos come in. Crumbled, then sprinkled on top, this pizza is sure to cover your pizza and taco craving all in one swoop.
Currently operating under the third generation of the Patane family, La Casa Pizzaria is no stranger to Neapolitan-style pizza. The square shape of a traditional Sicilian pizza is topped with none other than Nebraska- raised ground beef. This heavy square is best tackled with a fork and knife!
Some things just get better with age, and Charlie's Pizza house is no exception. The oldest pizza house in South Dakota attracts locals and travelers alike with their tantalizing combinations. One of their most popular is the spicy meatball, sauerkraut and jalapeno pizza that blends bitterness and heat.
What started as a smoothie business eventually turned into a pizzeria. The original smoothie stand was shaped like a rhombus; while the product changed, the shape (and part of the name) stayed the same. Rhombus Guys now produce delicious and interesting pizza choices, including one that is perfect for dessert. A graham cracker crust, chocolate chips and toasted marshmallows make the perfect bookend (or beginning) to a meal.

The West Crust has toppings you would expect to find in the Lone Star State: smoky applewood bacon, shredded pork, BBQ sauce and more. It also includes something that makes it stand out from other Texan pizzerias: glazed pecans. Try it on their Hill Country pizza for a great southern salty and sweet blend.
While Oklahoma may not be the first state that comes to mind when thinking of pizza, it may be one of the first for basketball. OSU fans are at home at Hideaway Pizza, including a former OSU basketball player by the name of Bryant "Big Country" Reeves. After the team made it to the Final Four in 1995, Big Country named this meaty pizza after him. Enjoy large portions of pepperoni, Canadian bacon, hamburger and kielbasa on top of this Oklahoma favorite.
New Mexico
Any pizza with green chili added on at Farina Pizzeria, Albuquerque
The New Mexico roasted green chili is a staple at many pizzerias across the state, but Farina Pizzeria does it best. This pepper is spicy like many others, but its flavor includes smoky tones and subtle garlic flavor that compliment the sauce, cheese and other toppings.
From food truck to store front, the brothers and co-owners of Serial Grillers know how to make an impression no matter where they are. Their pizzas are to die for, so it's only fitting that each item is named after a scary movie. The Saw Pizza starts with blood-red marinara, and is coated in mozzarella, provolone, feta, pancetta, pineapple and a surprising dust of brown sugar.

The menu may seem simple and traditional — it is — but it's so much more. With a focus on quality ingredients, Osteria Marco goes so far as to make its own mozzarella cheese in house. Try it on their prosciutto pizza, topped with fresh green arugula.
The Joe of "Joe's Favorite" is the owner of L' Osteria Mondello and an accomplished Italian chef — he trained in Italy before opening the restaurant. Take it from him: The sausage, plum tomatoes and extra virgin olive oil are a simple and perfect combination for any pizza-lover.
Like many other pizzerias, Bridger Brewing likes to personalize its menu by choosing toppings that are native to the area. Bridger's signature topping is perhaps a little more distinctive than that of the clams of the east coast or avocado of the west coast: bison pepperoni. Prepared in-house, the bison pepperoni is made from local meats and adds a great spicy, but not greasy, flavor to the pizza.
Pizzalchik (a melding of pizza, salad and chicken) serves up a variety of fusion foods reflective of its name. The C-38 sounds like the code for a science experiment, but it's really an experiment in flavor! This pizza starts off with typical ingredients like pepperoni, ham, sundried tomatoes and green onions, but surprises with the final touch: spicy elk meat.
Washington
Egg and Prosciutto Pizza at Serious Pie, Seattle
Who says eggs are just for breakfast? The chefs at this Seattle staple don't take the time of day too seriously when crafting their menu. This pizza features soft eggs, smoked prosciutto, local greens and pecorino sardo.
Though their hours and location have shifted over the years, the feel of a small pizza shop still resonates at Apizza Scholls. These Pacific Northwest pizza-lovers focus on quality and not quantity, so their signature ciabatta-like dough is made daily. That means when it's gone, it's gone, so make sure to get there early! Apizza also likes to keep their ingredients local. So local, in fact, they cure their own bacon!
Utah
The Wise Guy Pie at The Pie, Salt Lake City
Many pizzerias focus on the toppings that go on a pizza before baking. The Pie, on the other hand, excels at what it adds just before the pizza hits the table. For example, the Wise Guy Pie enters the oven with whipped cream cheese, spinach, artichoke, chicken, mozzarella and a touch of marinara. After baking, the pizza is topped off with sliced tomatoes, fresh-cut basil and a drizzle of balsamic. The fresh and baked flavors bring out a unique profile.
Nevada
Sausage and Stout Pizza at Pizza Rock, Las Vegas
With the ovens manned by Tony Gemignani, World Pizza Cup Champion, you're sure to be satisfied with anything you get at Pizza Rock — and you can get almost anything. Pizza Rock uses different ovens and temperatures specified to your particular pizza choice, demonstrating just how dedicated they are to the perfect pizza. Their biggest standout is the sausage and stout pizza, made with house-made beer sausage, caramelized onions, fontina cheese, beer salt, crushed red peppers, green onion and house-made mozzarella, all on a bed of honey malted Guinness beer dough. This mouthwatering pizza is limited to 23 pies per day, so get there early to enjoy!
California
Potato Gold Pizza at Mr. Pizza, Los Angeles
Mr. Pizza originated in Korea and established itself on USA soil. While the location changed, the funky fusions and unique combos did not. One of those fusions is the Potato Gold Pizza, topped with mozzarella cheese, mushrooms, ground beef, corn, onions, potato wedges, bacon, nacho chips flakes and sour cream on an unforgettable sweet potato mousse crust.
The climate of Alaska makes it challenging to grow year-round, so chefs focus on local resources to create impressive dishes. The ocean is a plentiful source, so the chefs at Capri Halal Pizza introduced the Alaskan Salmon Pizza.
The sushi chefs at Shokudo Japanese didn't limit themselves to traditional rolls. Instead, they decided to reconstruct sushi in a form that Americans are familiar with: pizza! The crust of their sushi pizza is made out of sushi rice. It is then topped with salmon, scallops, crabmeat and green onion and garnished with pickled jalapeno.
References
1Food Network. (n.d.). 50 states, 50 pizzas. Retrieved August 8, 2016, from http://www.foodnetwork.com/restaurants/photos/50-states-50-pizzas.html#thumbnail-view
Comments