Are You Walking Away From Free Money?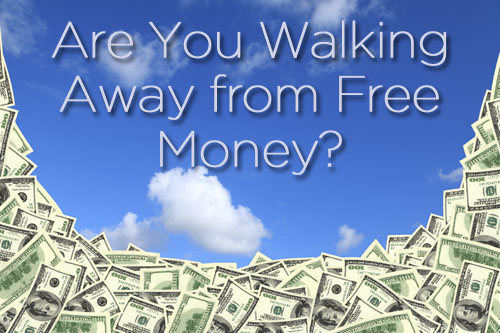 It might sound strange, but many working Americans walk away from free money every year.
Almost 50 percent of US employers offer their employees free money in the form of work-related retirement plans, however, more than 10 percent of eligible employees refuse to take their employers up on their offer.
Most eligible employees that participate in their employer's sponsored retirement plan receive free money because employers sweeten the pot by making contributions to their retirement accounts. Most employers contribute up to 2.5 percent of what their employees pay into the plan, however some employers contribute more. In a dollar for dollar match, employers have been known to contribute on average as much as six percent of their employees' wages. An employee that participates could potentially receive an annual yield of more than 100 percent if their employer matches their investment dollar for dollar.
Who doesn't want free money?
Sadly, at least 10 percent of Americans opt out of this valuable employee benefit. There are really no good answers as to why anyone would walk away from free money, especially because Americans are living longer and will likely spend at least 20 to 25 years in retirement.
Many people simple don't want to face the fact that they are aging. The old adage is true; as children, everyone wants to grow old as fast as they can until they actually do.
Hoping and wishing that you won't grow old and need to retire won't erase the truth; everyone that grows old will need retirement income in order to maintain their standard of living.
The best way to retire financially fit is to take advantage of the free money offer by your employer and participate in a sponsored plan. An added benefit of an employer-sponsored plan is that all contributions grow tax free which means your contribution, coupled with your employers contribution, gives you more bang for your buck.
If your employer does not offer sponsored plans, all is not lost — you can still save for retirement. Open a Roth IRA. Talk to your financial advisor to learn how to open a Roth IRA. Remember it's up to the young you to take care of the old you. Get started today.
The information in this article is provided for education and informational purposes only, without any express or implied warranty of any kind, including warranties of accuracy, completeness or fitness for any particular purpose. The information in this article is not intended to be and does not constitute financial or any other advice. The information in this article is general in nature and is not specific to you the user or anyone else.