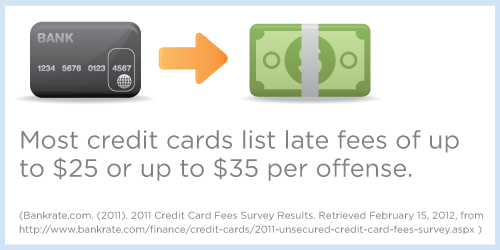 What do you do when you can't pay the bills?
According to the American Payroll Association, over 71 percent of Americans live paycheck-to-paycheck. They can easily cover their monthly expenses, but when an emergency comes up, they find it difficult to meet all of their financial obligations. And then they find themselves with some tough decisions to make.
Unfortunately, many in this situation avoid paying certain bills so that the emergency expenses can be covered first. While it sounds like the best idea, this system of non-payment can lead to a slew of other financial problems.
For example, let's say you don't have savings, your payday is days or weeks away, and you need $300 to fix your car in order to get to work. So you miss a payment on another bill in order to pay the mechanic. You may incur a late fee on your missed bill payment. Late fees on credit cards start at $25 for the first offense and go up to $35 afterward, according to Bankrate.com. Skipping payment on a credit card may also cause your credit score to drop, making it harder to obtain credit in the future. Not to mention, interest rates may jump to 29.99 percent or more after default.
If you've skipped one or more of your utility bills, you also risk getting those necessities turned off until the bill is paid. Without water, there is no more showering or brushing your teeth. Without power, there is no more using electronics or refrigerating food. Without gas, there is no more heating your home or cooking dinner. You get the idea. Your car may be fixed, but at a hefty price.
Then when you're finally able to pay the bill, you may have to pay a reconnection fee for each of the utilities that have been shut off. For example, the charge for water reconnection in Centerville, South Dakota is around $50. In Tallahassee, Florida, reconnecting non-water utilities costs about $29. And that's on top of the late fees! All things considered, "not paying" can have some costly consequences.
But there are some ways to handle unexpected expenses — one way is with a payday loan. Payday loans are short-term loans that are paid back on the borrower's next payday. By taking out a small payday loan to cover urgent expenses that arise between paydays, you save not only the cost of late fees and reconnection fees, but also the cost of going without necessities like food, water or transportation.
Keep in mind that there is a fee associated with securing a payday loan. According to a 2011 survey by the Consumer Federation of America, the average fee is $25 for every $100 borrowed. This may be a cheaper option than skipping bills and incurring late fees or reconnection fees as mentioned in the example above. With a payday loan, you can pay bills on time and cover an emergency expense.
But what about overdrawing your bank account or bouncing a check instead? You may risk possible criminal charges for a bounced check and — of course — incur fees. According to an analysis by Bretton Woods, Inc., it costs about $29 for bad checks, and the Consumer Federation of America found that it costs on average $35 for overdrawing a bank account.
You will incur costs no matter which route you choose, but as outlined in the above examples, payday loans may be a cheaper alternative.