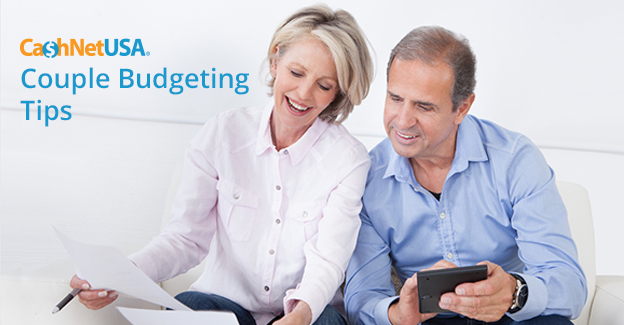 Bickering over finances is one of the biggest issues in romantic relationships, both new and old. In 2015, if you and your partner have set out on a financial journey to combine finances, or just want to perfect financial communication, check out our couples budgeting tips. 
1. Lay It All Out
First things first: Put all your financial information on the table. All your personal bills, debt or financial strain — share this information with your partner. This will allow you two to develop a plan of action and open the communication.
2. 

Build a Simple Budget Together
The easiest way to create a budget is to jot down and keep track of your monthly expenditures. Basically, identify how much money you are collectively making versus how much money you're spending. At the end of the month, add up all of your payments and purchases and see where your money has gone. If you two don't like what you see, make some adjustments together.
3. 

Go on a Financial Diet
As you make your budget, also try to set aside some cash every month for your savings account. This will help with unforeseen expenses, future payments or even something fun!
4. Yours, Mine and Ours
While you two are in the process of setting up your budget, set up three accounts — two personal accounts for you and your partner and one joint account. Identify what expenses you will be splitting and agree upon how much you both will get in your individual accounts. This will give you both a discretionary amount to spend however you please while still handling your bills together.
5. Divvy Up Financial Responsibilities
Once you have your accounts ready to go, decide together what bills your partner will be in charge of paying and what you will attend to monthly. Decide who will be in charge of paying bills and who will keep track of spending. Remember, budgeting as a couple is all about teamwork!
6. 

Share Short-Term & Long-Term Goals
Do you want to take a vacation? Is there a car you are hoping to purchase? Are you hoping to buy a home? Don't limit your goals if your financial situation isn't currently where you want it to be. Setting short-term and long-term goals as a couple gives you a lot to look forward to and a sense of accomplishment when you get there.
7. 

Have a Monthly Money Meeting
Once a month, agree to have a meeting to discuss your finances. During these meetings, discuss your budget for the month and how you two are doing with your financial goals. The goal of these meetings is to strengthen your communication and take your trust to a whole new level!
Comments