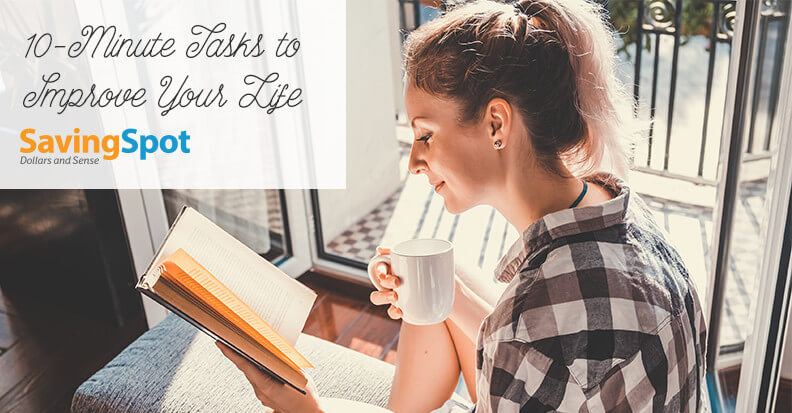 60 Things to Improve Your Life Now
We all lead busy lives. Work, relationships, workouts, events — we have so many obligations to juggle and so little time to keep everything organized. We all tend to fall behind a bit every now and then, so why not do a little extra work here and there to help you get ahead? Start managing all these obligations by adding a better way to balance them all into the mix.
We've compiled a list of easy tasks that you can seamlessly integrate into your routine to help you stay more organized and accomplished every day. These tasks include home organization as well as time for yourself (because your mental health is just as important!). Each task should take you no more than 10 minutes. Challenge yourself to do at least one of these each day.
Read a chapter from a book on your to-read list.
Buff your nice pair of shoes.
Wipe the inside shelves of your refrigerator.
Update your resume (even if you love your job).
Sort through your pantry and toss out anything expired.
Clean out the "junk drawer."
Organize your computer desktop.
Delete apps you don't use (especially those with subscription fees!).
Clear off cluttered counters.
Clean all the mirrors in your home.
Sort through condiments in the fridge and throw out anything expired.
Organize the folders on your computer to make it faster.
Research a book on your favorite non-fiction topic.
Wipe out the inside of your microwave.
Find a new podcast to listen to during your commute.
Clean out your wallet.
Organize a drawer in your dresser.
Create a meal plan for the next week.
Clean out your car.
Sort your shoes and throw out anything that's falling apart.
Flip your couch cushions.
Start a load of laundry.
Clean out your toiletries and discard anything that isn't part of your routine.
Do a face mask or deep condition your hair.
Sort through any mail that's piled up.
Set up reminders for bill due dates.
Disinfect your light switches and door knobs (especially in the winter!).
Organize your email inbox and folders.
Write in a journal.
Look through your calendar and schedule a window of "me time."
Wipe out your oven.
Organize your important paperwork into files (insurance papers, medical records, etc.).
Make your next doctor's appointment, especially if you haven't had one in a while!
Go for a walk around the block.
Wash your car.
Unsubscribe to emails you don't need.
Clean the surface of your stove.
Clean your shower/tub.
Organize the clothes you hang.
Take care of your dry-clean-only clothes.
Come up with a list of places you want to travel to next.
Go through your latest transactions and note any inaccuracies or excessive purchases.
Plan your workout schedule for next week.
Dust your ceiling fans.
Color in a coloring book.
Flip your mattress.
Write down one thing you want to accomplish in the next month and three things that will help you do it.
Change the batteries in your smoke alarm.
Do a yoga flow.
Fuel yourself with positive thoughts.
Watch funny YouTube clips (with a timer set).
Freshen up your nails.
Join an online accountability group to help reach your goals.
Pick out your outfits for the week so you can sleep in a little longer.
Write down three things you're grateful for today.
Clean out photos in your phone that you don't need.
Take a dog on a walk (borrow a friend's if you need to — they'd probably love the help!).
Call a friend you need to catch up with.