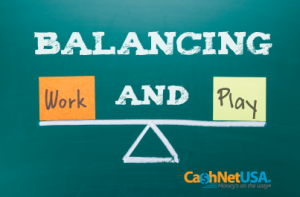 For years I've worked alongside workaholics and seen friends and family subjected to the pressures of constant work-life balance conflicts. That's why I've come up with a few tips and tricks to satisfy the demands of an intense career while making time for myself and my family. When you think about it, we work so we can provide for ourselves and possibly a family, both now and in the future. If your job is making you miserable now — due to long hours and constant pressure — it probably means you need better work-life balance. Here's how I find balance:
Mini-breaks – Going all-out for 10 hours at a time can really wear you down. In order to maintain my sanity, I like to take mini-breaks throughout an intense day, even if it means just walking down to the ATM or brewing up a quick French press coffee. If you have a problem with nonstop meetings all day, consider when it might be OK to excuse yourself from a non-crucial meeting every now and then.
Separate in-work activities from flex work – As much as it may seem like you need to be in the office for your full workday, chances are that a good portion of your work could be done at home. While some people like to keep a firm barrier between home and work, I find that maintaining some flexibility enables me to do some work at night while leaving work earlier.
Stop stressing about perceptions – I used to feel embarrassed any time I left work before 6 p.m., since my co-workers and boss were always there later. But when I realized my output was the same or better when I left sooner, I felt less guilty. I've done well in my career by working more flexible hours, while some of the workaholics from earlier in my career haven't advanced.
Prioritize personal needs and execute – This one's important. Instead of skipping that annual physical exam or anniversary dinner, just set it on the calendar as an "out of office" block and go do it. The work will be there when you return. You can't get these moments back.
Efficiency moves – One reason many people spend countless hours at the office is because they don't make it a priority to leave. This makes them less efficient than they could be. I see some people at work routinely past 7 p.m., yet they go out to lunch with colleagues each day and frequently socialize at work.