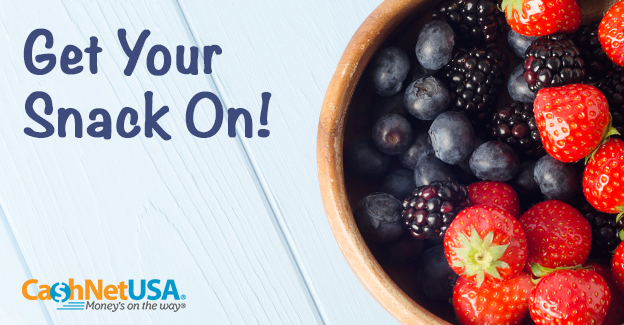 It's likely going to be a long, hot summer. So why spend all of it in a hot kitchen? Start your summer off on the delicious foot by making these 5 speedy summer snacks for family and friends!
1. Avocado Toast
It's as simple as it sounds. Summer is prime avocado season, and all you need to enjoy it more than usual is a toaster and some seasoning!
How to Make It: Get a couple slices of whole-grain bread, toast it and top the bread with lightly mashed avocado. Top it all with some olive oil, lemon juice and salt!
 2. Caprese Skewers
What says summer more than fresh caprese, grape tomatoes and basil? Plus, let's be serious; everything stuck on a stick is finger lickin' good.
Directions: Cut some cheese into squares and your tomatoes in half, and remove the stems from the basil. Skewer the cheese, basil and tomato (in that order)! Enjoy.
3. Campfire Trail Mix1
Picture this: You're sitting around the campfire with your family and friends on a hot summer night and you suddenly get a hankering for something sweet and salty. Then you remember you have a huge bag of campfire trail mix in your tent! You definitely saved the day. Read on to learn how to make this delectable and savory treat.
Ingredients:
3 tbsp. butter
3 tbsp. brown sugar
¼ tsp. cinnamon
½ tsp. vanilla
1 cup almonds, chocolate chips, marshmallows
2 cups graham crackers, pretzel sticks
Preparation:
Preheat the oven to 250 F.
Sprinkle graham crackers, pretzel sticks and almonds.
Mix butter, brown sugar, cinnamon and vanilla extract.
Drizzle mixture over your dry ingredients.
Bake for one hour! Store for up to 2 weeks.
4. Fruit Pizza
Pizza is perfect. It doesn't matter what time, what day or what toppings. So why not prepare a fruit pizza this summer? Oh yeah, it's a real thing! All you need are whole-grain tortillas, plain Greek yogurt, fresh fruit and granola.
Preparation: Lay out the tortilla (this is your crust), spread the yogurt (this is your sauce), fold it over and top with fruit and granola.
5. Banana Sushi2
Sushi — hold the seaweed and fish! This finger food is ideal for an on-the-go snack that's fun to make! All you need are bananas, peanut butter, almond butter or chocolate butter, and some chopped peanuts, pistachios or almonds.
What To Do: Peel the bananas, spread your butter horizontally, top with chopped nuts and slice your "sushi." Get those chop sticks — hold the soy sauce and ginger.
References
1Ann, K. (11 June 2014). Campfire trail mix. Retrieved June 1, 2015 from http://bakelovegive.com/campfire-trail-mix/
2Hersh, L. (16 December 2013). Banana sushi. Retrieved June 1, 2015 from http://fitfoodiefinds.com/2013/12/banana-sushi/
Comments