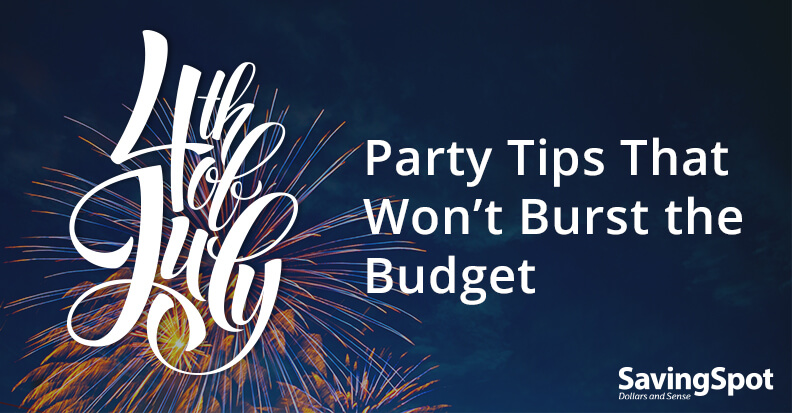 4th of July Savings in 4 Easy Steps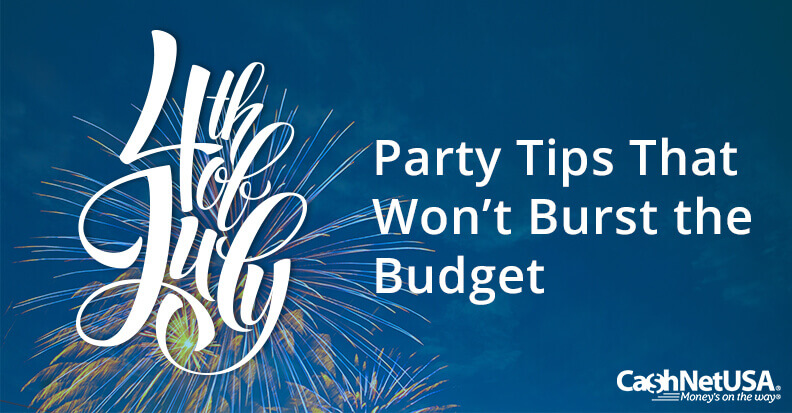 July 4, 1776, was a big day in American history: The Continental Congress solidified the Declaration of Independence, setting our fight for sovereignty into motion. It is a day set aside to acknowledge those who blazed a path before us — it only seems fitting to celebrate with exhilarating fireworks and classic American BBQ fare!
If you're hosting this Fourth of July, the costs can start adding up quickly. In fact, the cost of a typical 10-person BBQ has increased 28% over the past 10 years!1 Between food, decorations and entertainment, you can end up spending well over $100 to celebrate with your friends and family. Don't let your Independence Day bash burn a hole in your pockets. Use these four easy tips to throw a fantastic party for less!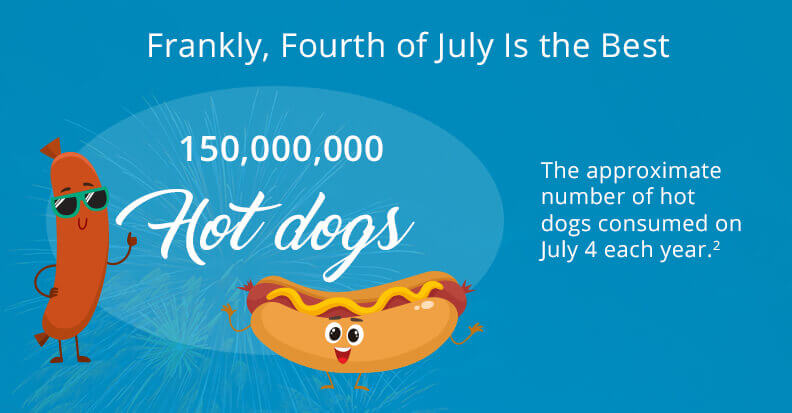 Food
Host a potluck: If there's one holiday that's perfect for a potluck, it's the Fourth. Hot dogs, hamburgers, fruit salad and chips all make for super easy — and super tasty — potluck foods. Ask your guests to bring one dish to contribute.
Avoid premade food: The stress of hosting can make things like ready-made pasta salad and meat and cheese trays at the grocery store heavily appealing, but don't be fooled: Supermarkets will mark up these premade products 30 – 40% for the convenience.3 Instead, plan ahead and prepare as much food the day before the party as you can so you can spend more time with friends and less time in the kitchen on the day of.
BYOB: If you're asking your guests to bring food, you may as well ask them to bring beverages, too. In addition to saving you some cash, every guest will be sure to bring a beverage they can enjoy, and you don't have to worry about buying a large enough variety to please everyone.
Keep it domestic: On average, beer is 28% of any BBQ budget.3 If you do choose to provide adult beverages for your guests, buy domestic favorites (which are typically on sale for the holiday) rather than pricey craft brews. You'll end up buying more to cover everyone's taste preferences.
Decorations
Visit the Dollar Store: You don't have to go all out at your local party supplier to give your bash a bold look. Head to a dollar store, and chances are good you'll find some fantastic, American-themed decorations.
Get the ball rolling: Mason jars are multipurpose items that can add a bit of All-American rustic flair to any Fourth of July party. From drinking glasses to holders for bug-repellant candles, there are dozens of ways you can use these low-cost wonders to improve the décor.
Print something pretty: Printables are a simple and free way to add those little touches to your cake topper, food table and more. Try one of these free printables and get cutting!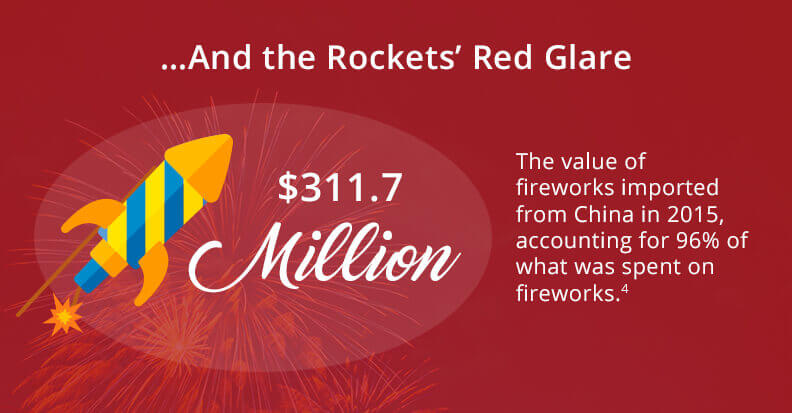 Entertainment
Watch local fireworks: If you feel like your party will be a bust without fireworks and want to avoid the dangers of buying your own, look for local displays for you and your guests to enjoy. Many cities offer a public fireworks display, and it's often just a matter of finding the right view. Also bear in mind that not every town hosts fireworks on the Fourth depending on what day it falls on. Call your local park district office to find out location, time and date.
Get your head in the game: Set up outdoor games like bags, horseshoes, washer toss, badminton and other fun activities to keep your guests busy. You can even set up teams for a tournament! Make sure you keep up with the weather forecast — it's good to have alternative indoor options in case inclement weather strikes!
Move to the music: Make a playlist that lasts one hour longer than you anticipate your party lasting. Sometimes a good party is just about a good vibe, and a great playlist can bring that. If music isn't your thing and you're worried about curating a great playlist, try music platforms like Spotify and Pandora for premade Fourth-of-July-themed playlists.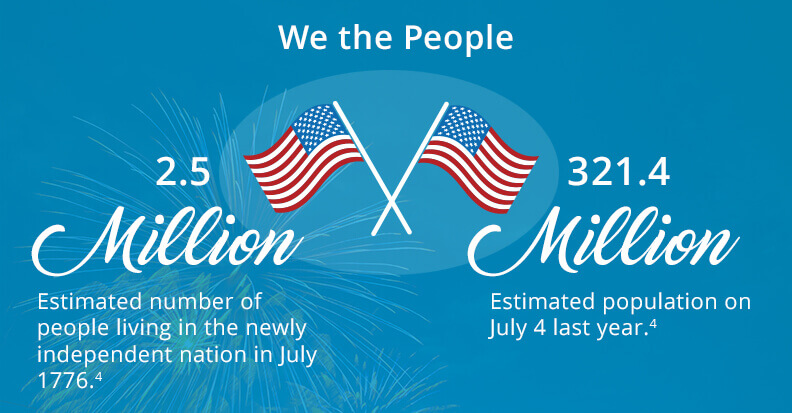 Guests
Kid zone: If you plan on having multiple age groups at your party, make sure that you have entertainment set up for both groups. Some inexpensive but effective options for young patriots can be as simple as sidewalk chalk, water color painting or a backyard movie under the stars.
Share the love: Babysitters can be expensive, especially on a big holiday. If you and your friends have several kids, hire one or two babysitters and host all the kids at the party as well. Rather than each parent having to pay for one babysitter, parents can split the cost of the one or two needed to watch several kids. That way, the parents can have a great, relaxed time at a fraction of the cost.
Chat-friendly zone: You gather friends together to enjoy their company. The biggest mistake you can make as a host is having too many obstacles in the way of that (loud music, too many games, no where to sit, etc.). Less is more! Make sure your party layout is conducive to good conversation and avoid specific areas of activity that encourage too many small groups.
References
1Cordingley, B. (July 3, 2014). Fourth of July BBQ costs are on fire. Here's how to keep budgets cool. Retrieved May 2, 2017, from http://www.huffingtonpost.com/bill-cordingley/july-4th-bbq-costs-are-on_b_5552497.html
2S. (September 8, 2016). 4th of July statistics. Retrieved May 2, 2017, from http://www.statisticbrain.com/4th-of-july-statistics/
3Woroch, A. (January 24, 2012). Save on Independence Day. Retrieved May 2, 2017, from http://www.sheknows.com/living/articles/835015/11-budget-smart-bbq-tips-for-4th-of-july
4US Census Bureau. (June 22, 2016). FFF: The Fourth of July 2016. Retrieved May 2, 2017, from https://www.census.gov/newsroom/facts-for-features/2016/cb16-ff13.html