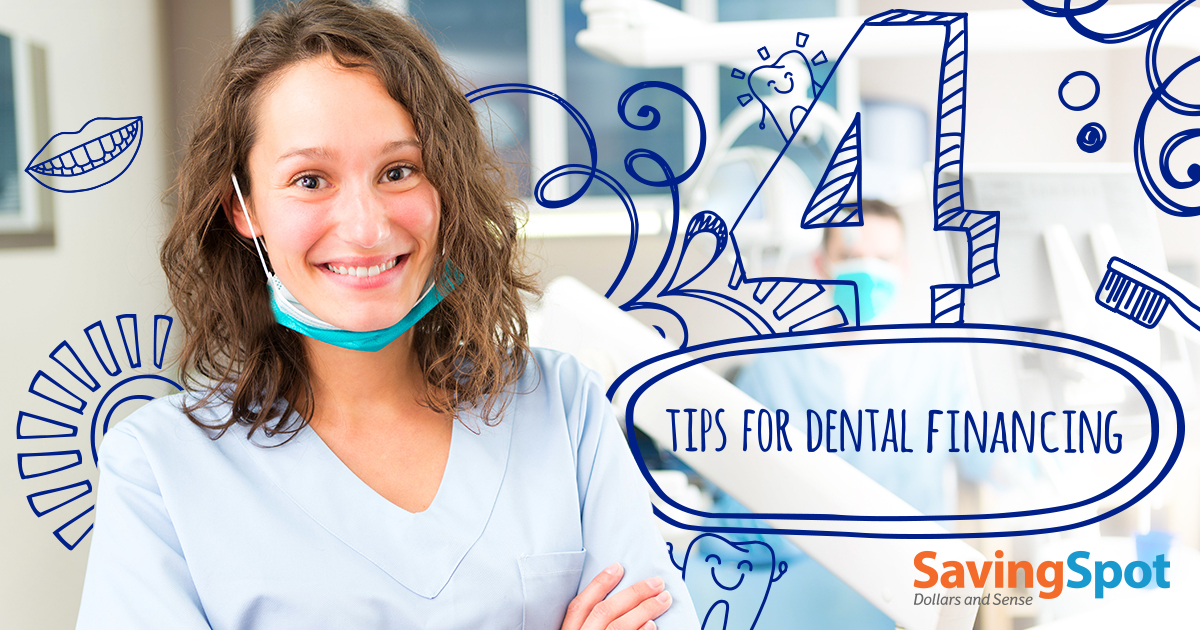 4 Tips for Dental Financing
While 95% of U.S. adults agree or strongly agree that regular visits to the dentist will help maintain overall health, only 58% have visited their dentist in the last year.1,2 There are many excuses to avoid the dentist — the time, the potential discomfort, the cost — but that doesn't mean they're good excuses. Dental hygiene is not just about avoiding cavities or foul breath. Unhealthy teeth and gums indirectly promote other medical problems like cardiovascular disease, respiratory infections, endocarditis, kidney disease and more.3
With your overall health at stake, there's no good reason to put off your next dental visit or procedure. Putting off dental care can lead to bigger, more expensive problems later down the road. Something as simple as a small cavity can escalate to tooth loss, potentially even an abscess that can lead to a major infection. The risk is not worth the money saved by not addressing the issue.
If cost is the reason you're avoiding the dentist, you're not alone. 69% of Americans report they are unable to cover the costs required to support their dental health.4 So what options are available to those who need work done but can't afford it? Here are several ways to finance the dental procedures you need.
Maximize Your Health Insurance Benefits
Take advantage of flexible spending accounts (FSAs) and health savings accounts (HSAs) potentially offered through your employer. These accounts are pre-tax dollars set aside for medical and dental expenses every paycheck. By setting money aside bit by bit, the impact of a large medical expense won't hit your finances as hard.
In- House Payment Plans
Consult your doctor's office and see if they have payment plans available. Some doctors will accept a partial payment or deposit followed by recurring monthly payments until the cost is covered. These "in-house payment plans" typically do not charge interest and are common when your treatment requires multiple visits. However, if it is a one-time procedure, like a cavity fill, that may not be an option.
Medical Credit Cards
As the name suggests, there are credit cards specifically intended for medical expenses. Many medical credit card providers offer a variety of no-interest promotional periods ranging from six to 24 months depending on the amount of credit needed. The promotional interest is valid as long as you make the minimum monthly payment. For example, you had a series of fillings and it cost you $1,000 out of pocket. That's a large cost up front, but spread over 12 months ($83.33/month), that $1,000 becomes a lot more manageable for most patients. However, unlike typical credit cards with a promotional interest rate, medical credit cards use deferred interest. That means if you do miss a payment or if the amount is not paid in full within that promotional interest period, you will have to pay all of the retroactive interest rather than the interest on the remaining amount.
The information in this article is provided for education and informational purposes only, without any express or implied warranty of any kind, including warranties of accuracy, completeness or fitness for any particular purpose. The information in this article is not intended to be and does not constitute financial or any other advice. The information in this article is general in nature and is not specific to you the user or anyone else.
RESOURCES
1Statistic Portal. (n.d.). Denied dental services due to cost percentage U.S. 1999-2016. Retrieved December 10, 2018, from https://www.statista.com/statistics/188054/persons-who-were-denied-dental-services-in-the-us-due-to-cost/
2American Dental Association. (March 21,2018). Survey: More Americans want to visit the dentist. Retrieved December 10, 2018, from https://www.ada.org/en/publications/ada-news/2018-archive/march/survey-more-americans-want-to-visit-the-dentist
3Pena, W. (n.d.). How poor dental care can affect your overall health. Retrieved December 10, 2018, from https://www.colgate.com/en-us/oral-health/conditions/gum-disease/how-poor-dental-care-can-affect-your-overall-health-0313
4Reinberg, S. (September 7, 2017). Can't afford the dentist? You're not alone. Retrieved December 10, 2018, from https://www.cbsnews.com/news/cant-afford-the-dentist-youre-not-alone/