Max Jaffe
January 11, 2013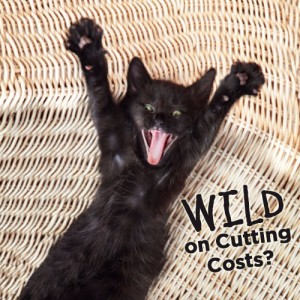 Food is what economists say has an inelastic demand, which is fancy words for the fact that there is no substitute; you have to eat! But, you can substitute less expensive food for some, if not all, of the food you buy.
Here are some suggestions that surpass the usual standby considerations of clipping coupons, never going to the store when you're hungry, and making a list when you go to the store (and sticking to it.)
Prepare Food at Home
Of course making meals at home is less expensive than eating out; would you believe 80 percent less expensive? Consider this: one wholesale club sells boneless and skinless chicken breasts for $1.79 a pound, and half a pound provides a descent meal costing $.90 (half of $1.79), as opposed to $7.99 plus tax and tip at the local restaurant chain. Add in another buck for veggies at home and you have a $2.00 meal versus a $10.00 meal. Okay, so your grocery costs may go up, but your overall food costs go down substantially.
Let's go a step further. What this is all about is preparation. Anything that is prepared for you will be more expensive because the folks that are preforming the preparation have to be paid. Take carrots. First of all, I don't buy organic anything; no medical maladies have happened to me in the 54 years of my eating un-organic food. If you buy the baby carrots, you're paying someone to peel them and slice them. On the other hand, whole carrots take more time and preparation but put more money in your pocket. Remember, convenience translates into a higher price.
Paper Products
Paper products can be expensive; if you buy them at a wholesale club, they are less costly, but then you have the problem of storing a seven-year supply of paper towels and napkins. Substitute kitchen towels and cloth napkins for their paper equivalents and throw them in the washing machine when you're done. You're already doing laundry and a few more items in the load won't matter.
Develop Your Own Price Book
Grab an old spiral notebook and create what is called a price book. A price book is a log of the prices of your most frequently purchased items, not unlike a journal, only you're journalizing the things you buy most frequently. From this self-created reference, you'll be able to quickly tell if something is REALLY on sale.
Set up your price book so it makes the most sense to you; some people set them up alphabetically, while others prefer it by category. The point is to be able to locate items as quickly as possible.
The data you'll be collecting will be:
Date
Grocery store
Brand
Sizes
Price per size or unit
Each week go to different stores for your common items, as this will tell you who sells what less expensively. Keep in mind you don't want to drive all over town just to get a couple of items here and there. When you're at a particular store that you know from your price book sells something less expensively, stock up on that item.
The exception to the driving rule is loss leaders. Loss leaders are items a store puts on sale at a remarkably lower price to get you into the store so you'll buy everything else there. Only buy the loss leaders. Move on to your other store for the items they sell at a lower price.
The key to saving money on food and grocery items, or anything else for that matter, is not to make it drudgery; have fun with it. Turn it into a game if possible. Challenge yourself each week to lower your food costs; the gratification comes in the reward of more cash on hand.
Cutting Your Food and Grocery Costs, 4.7 out of 5 based on 3 ratings