Princess Clark-Wendel
January 18, 2013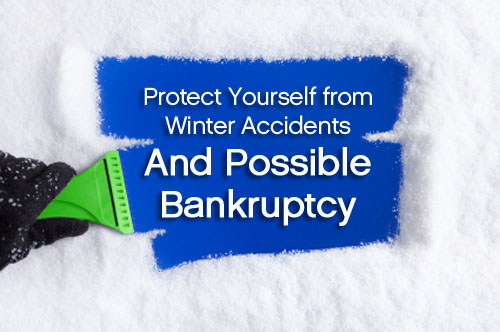 In most areas of the country, winter means snow and slippery roads, which can lead to car accidents. Even if you are a safe driver, a car accident can put a dent in your bank account as well as your car.
Consider the case of Sally the Safe Driver.
Sally the Safe Driver was very conscientious, especially when it came to protecting herself against the hazards of winter driving. Every year before winter hit, she'd make sure her car was properly maintained. Her mechanic would perform a complete check of her car, analyzing everything from the safety of her brakes to the condition of her engine. She even checked her windshield wiper fluid levels. This was especially important because visibility is often compromised during winter storms.
In order to get good traction on her vehicle Sally replaced her standard tires every year with snow tires. She knew that in order to avoid winter skids, she'd need good traction. She even kept a tire pressure gauge in her glove compartment to monitor her tire pressure on a regular basis.
Sally lived in an apartment and usually parked her car on the side streets of Chicago; however, during the winter months she rented a garage. This way she was able to avoid her car being hit while parked on the street. Fender benders on slippery roads are a major cause of car accidents.
At first look, one might think Sally the Safe Driver made all of the right moves, especially when it comes to getting her car ready for winter. However, there is one thing Sally missed.
Here's the back-story; Sally the Safe Driver recently graduated from medical school. She is currently a full-fledged pediatrician. Her income substantially increased from the days when she was a starving student, however her insurance coverage did not. As a struggling college student, Sally purchased the minimum auto liability coverage limit in her state in order to save money. The lower the coverage limit, the less the premium she had to pay for coverage.
Although buying inexpensive coverage saved her a few bucks as a student, she did not update her coverage to protect her changed financial status and Sally got sued.
Sally Gets Sued

One December morning while approaching a yellow light at an intersection, Sally speeds up to "make the light" instead of stopping because she did not want to be late for her new job. She ends up beating the red light but also hits a car. The driver sues Sally.
Sally goes to court and is found guilty of negligence. The court determines that Sally failed to safeguard others from injury by not using reasonable care. Although Sally had automobile insurance, it was not enough to cover the costs of the judgment. Remember, her automobile policy only provided the states required minimal liability, however the court's judgment was based on her current net worth, which exceeded the minimal coverage. Sadly in order to settle the claim Sally had to file bankruptcy.
Her net worth was completely wiped out.
What can we learn from Sally?
In most states, law requires automobile insurance. Although minimal liability coverage varies from state to state, it is not a guideline for how much insurance you should carry. A low liability policy can be inexpensive; however, it may not meet all of your needs. Buy insurance that matches your exposure to risk and visible wealth. This way if your car gets banged up, you might not have to file bankruptcy. A sure fix to avoid financial peril is to always update your insurance when your finances change. It pays to be protected.
Avoid Bankruptcy by Protecting Yourself from Winter Bang Ups, 4.3 out of 5 based on 3 ratings